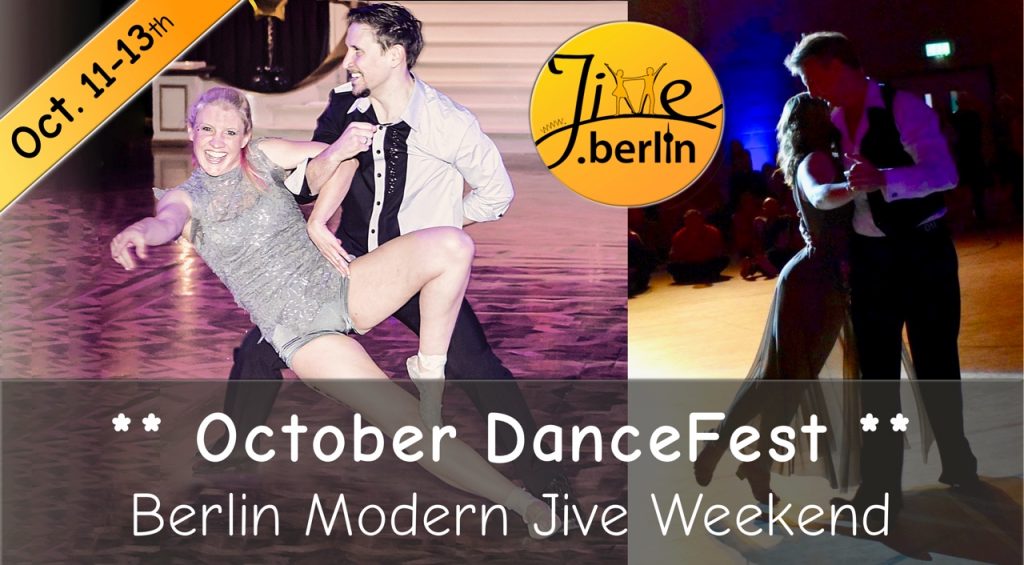 Vielen Dank an alle, die bei unserem October DanceFest 2019 dabei waren! Hier findet ihr Fotos und Videos vom letzten Mal: / Thanks to everyone who joined our October DanceFest 2019! Here, you'll find photos and videos from last time:
www.jive.berlin/tanzblog/october-dancefest-2019
"October DanceFest" ist unser Modern Jive Tanzwochenende ("Weekender") im Herbst! Einfach aber intensiv Tanzen lernen und Spaß haben. Wir haben hochkarätige internationale Modern Jive Lehrer/innen, ein schönes Tanzstudio und viel gute Laune für euch! Das Berlin Modern Jive "DanceFest" findest statt vom 11. bis 13. Oktober 2019. Das Tanzwochenende ist für AnfägerInnen als auch Fortgeschrittenere geeignet. /
Join our October DanceFest in Berlin! The Modern Jive weekender from 11th-13th October 2019 is suitable for all levels! We have fabulous international teachers, a great location and a fun-filled event for you!
Unser Angebot / What we offer


12 Workshops
7 internationale Modern Jive TanzlehrerInnen / 7 international teachers

Keith & Vicky (Revolution Dance, GB – World Modern Jive Champions in Showcase Section 2019)
Lindsay (Top Cat Dance, GB – 14x Modern Jive Champion)
Lee & Dawn (Style Dance School, GB – 18x Modern Jive Champions)
und uns – Nele und Jasper von Jive.Berlin

3 Tanzabende / 3 freestyles
Show-Vorführung/cabaret

Zentrale Location mit 2 Tanzflächen + Hof / location near city centre with 2 floors + courtyard
Optionale geführte Spaziergänge / Optional guided walks through Berlin
Preise / prices
Das ganze Tanzwochenende kostet 90 Euro pro Person – das sind nur knapp 7,50 Euro pro Workshop!
90 Euro – das gesamte Tanzwochenende / whole weekend
60 Euro – ein ganzer Tag / full day pass
15 Euro – Tanzabend / one evening
Zeitplan / draft schedule
Veranstaltungsort / venue
Caramba Tanz&Co
Greifswalder Str. 207, 10405 Berlin (Prenzlauer Berg)
Tram M4 Station "Hufelandstr."
Unterkunft / hotel
Wir haben ein paar Hotelzimmer reserviert. Sie sind ca. 5 Minuten Fußweg entfernt. Doppelzimmer kosten ab 75 Euro. Bei Bedarf bitte Kontakt aufnehmen. / We have blocked a few hotel rooms nearby – just a 5 minute walk away from the venue. A double starts at 75 Euro per night including breakfast. Please contact us if you need accommodation during the event.

Es gelten unsere AGB. Keine Preiserstattung nach Kauf. Bei Problemen uns bitte kontaktieren – wir sehen, was wir tun können.
Our Terms of Services apply. No refund after purchase. However, if you have problems, contact us and we'll see what we can do.