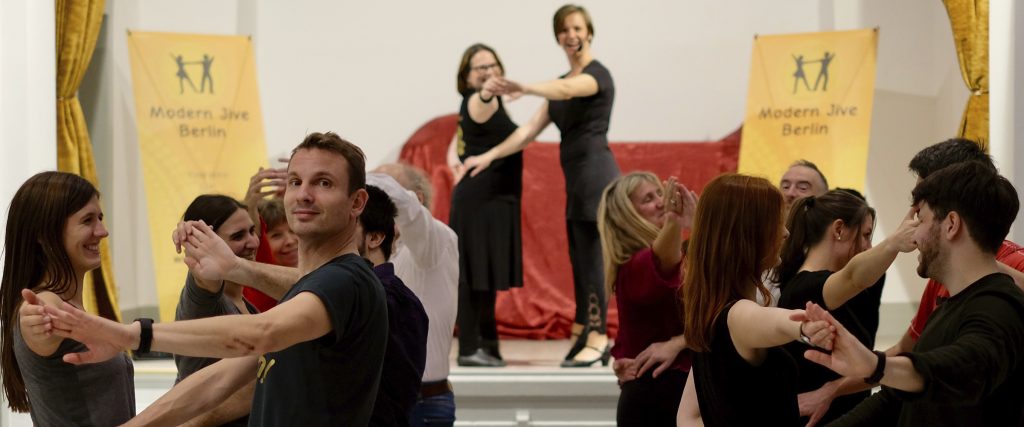 Corona Regelungen – derzeit keine Kurse. / Currently, no classes due to official Corona regulations.
Dienstags in Neukölln (S Hermannstrasse) / Tuesdays
Achtung, neue Struktur / New structure of classes:
immer dienstags*
19:30 – 20:15 Uhr – Fortgeschrittene / Intermediates only

nur paarweise Teilnahme (Leader + Follower) / partner mandatory

20:15 – 22:00 Uhr – AnfängerInnen / Beginner + Improver Classes

Single-Teilnahe möglich (neues Konzept) / you can join without a partner (new concept)

Hertastr. 11 (Großer Gemeindesaal),
12051 Berlin Neukölln
nahe S Hermannstrasse
bitte anmelden über die Kursseite, Plätze begrenzt / please register via the website for Tuesday, places are limited
JedeR ist herzlich willkommen. Anfangen ist bei uns jederzeit möglich. /
Everyone welcome! You can start anytime!
Mehr Infos zum Dienstags-Kurs… / more information on the Tuesday class…
* falls auf den Seiten von Jive.Berlin oder www.facebook.com/jive.berlin nicht anders beschrieben / if not stated otherwise on this website or on Facebook
---
Nele ist Teil der / Nele is part of: LeRoc Modern Jive Federation & United Kingdom Alliance of Professional Teachers of Dance (UKA)