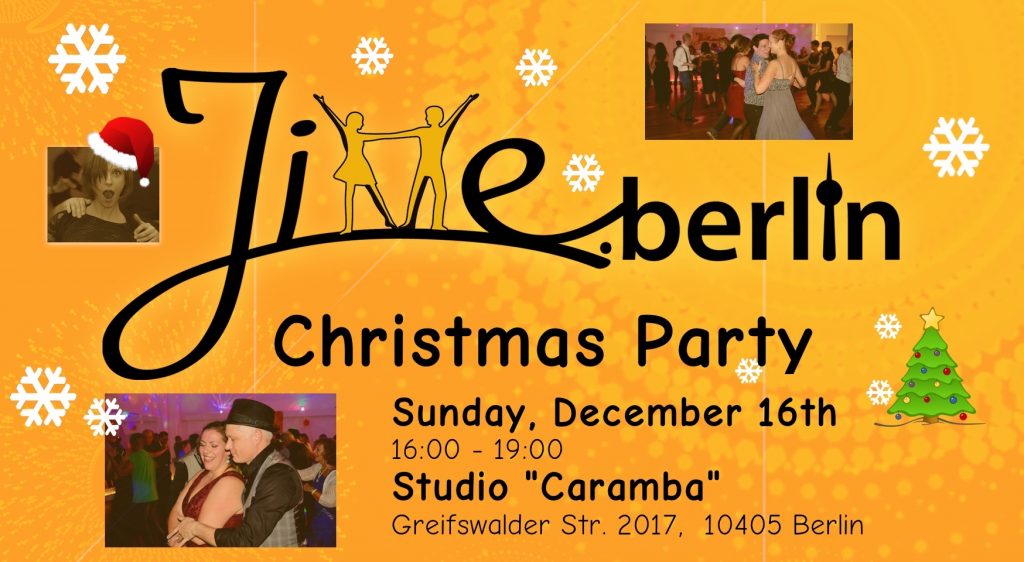 Wann ist die Weihnachtsfeier? / When's the party?
Sonntag, 16. Dezember
16:00 bis 19:00 Uhr
Veranstaltungsort / Venue
Caramba Tanz & Co
Greifswalder Str. 207, 10405 Berlin Prenzlauer Berg
(Tram M4 "Hufelandstr.")
Specials
kurzer Einführungskurs zu Beginn / short intro-class
Mit oder ohne TanzpartnerIn teilnehmen / join with or without a dance partner
AnfängerInnen willkommen / beginners welcome
moderner Musikmix – auch ein paar Weihnachtslieder / fun music mix
kostenlose Getränke und Süßes / complimentary drinks and sweets
gern mit weihnachtlichen Outfits / feel free to wear Christmas outfits/accessories
Was kostet die Weihnachtsfeier? / What are the costs?
10 Euro an der Tür / at the door
5 Euro für NeutänzerInnen / for first-timers 50% off
Members can use their "Frequent Dancer Card"
Es gibt kostenlose Getränke (Tee, Kaffee, Wasser) und Kuchen bzw. Süßes /
We offer complimentary drinks and cake/sweets!